North-East Regional Centre (NERC), Guwahati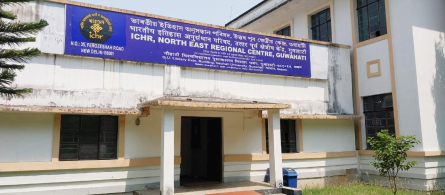 In pursuance of the decision for the establishment of regional centers of ICHR adopted in the Council meeting held on 25/06/1993, the North East Regional Centre was established on 1 August 1997. Since its establishment, the NERC has been assisting the Council in promoting researches in history through various academic programmes, such as workshops, seminars, conferences, lecture programmes etc., in the region. Through its academic programmes, the NERC is growing into a thriving centre of academic discussion. The Library of the NERC started to function in 1998 and since then it has grown into one of the most visited libraries in the region. An Advisory Committee consisting of eminent historians advises planning and development of programmes of the NERC.
Objectives of the NERC
The NERC serves as an extension office of the ICHR in promotion of researches in history and allied disciplines in the region. Its activities are designed to provide platform for academic interactions of scholars and historians of the region, particularly amongst the young scholars. The Centre also undertakes promotional activities to familiarise the scholars of the region with the aims and objectives including the funding schemes of the ICHR.The activities of the Centre are framed keeping this framework in view.
Address
ICHR NERC, Gauhati University Library Extension Building, Gopinath Bordoloi Nagar, Dist. Kamrup (M), Assam, Pin-781014