Member Secretary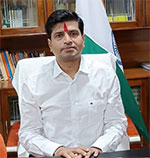 Prof. Umesh Ashok Kadam, the Member Secretary, Indian Council of Historical Research (ICHR), entered upon the Office of the Member Secretary on 11th August 2022. An eminent social scientist in the discipline of History, Prof. Umesh Ashok Kadam specializes in socio-economic and cultural History of the Deccan, Trade and Commerce in the 17th and 18th century Konkan coast, Bhakti movement from the 10th to 17th century, Maritime History of Western India, Urbanization in the Medieval Maratha country, History of the Marathas and European powers and has a track record of advancing social, economic, and cultural development in various capacities. He is deeply committed to promote research on Indian history with an multi-disciplinary and holistic approach in tune with National Education Policy 2020.
Prof. Kadam holds the position of Professor (Chair Medieval Indian History) at the Centre for Historical Studies, Jawaharlal Nehru University, New Delhi before his appointment as Member Secretary, ICHR. He has been teaching and conducting research for more than 24 years. His responsibilities there included Teaching, Research and Extension, student affairs, and ground level societal welfare activities. He also played a significant part in the university's overall strategic leadership and direction by participating in various Committees.
He has authored 46 books, published 30 research papers, completed 03 Major research projects, 10 book chapters and 02 monographs. He serves on the editorial board for the journals, Studies in History and Indian Historical Review. He is a recipient of various awards and fellowships for his outstanding contributions in the field of history. Of his many achievements, Prof. Kadam is best known for introducing and developing young talent to conduct research on 8th to 14th century medieval Indian history with the help of vernacular sources on one hand and in the field of maritime research of western coast from 16th to 18th century with the help of European sources (French, Dutch, Portuguese). He has held a number of administrative positions in addition to his work as a teacher and researcher, including Visitor nominee at the AMU in Aligarh, Dean of Student's Welfare at JNU, ERIC at NCERT, Academic Council NDA, Member Planning at International Society of Regional History (ISRH), North West University, Vanderbijlpark, South Africa and Chairman, Centre for Historical Studies (CHS), Jawaharlal Nehru University, New Delhi. Prof. Kadam has served as EC, AC & Court Member of JNU, New Delhi. He has guided more than 26 M.Phil and 24 Ph.D scholars.
In addition to strengthening the links between education and research in his previous roles, Professor Kadam has led large change programmes, worked to further equality, diversity and inclusion and is a strong proponent of driving the digital and online learning agenda. He has a clear vision for how research and education should work in tandem within Research institutions with strong civic roots.